Date: 19th September 2007
Match: Sporting Lisbon vs United, UEFA Champions League
Venue: Estadio Jose Alvalade
Attendance: 39,514
Manchester United
Edwin van der Sar
Rio Ferdinand
Patrice Evra
Nemanja Vidic
Wes Brown
Ryan Giggs *
Michael Carrick
Paul Scholes
Wayne Rooney **
Cristiano Ronaldo ***
Luis Nani
Substitutes
Tomasz Kuszczak
Gerard Pique
Jonny Evans
Chris Eagles
Louis Saha (71) **
Carlos Tevez (85) ***
Oliveira Anderson (75) *
Sporting Lisbon
Vladimir Stojkovic
Fernando Abel
Antonio Leonel Tonel
Marat Izmailov *
Miguel Veloso
Felipe Joao Moutinho
Da Silva Liedson
Leandro Romagnoli **
de Araujo Ronny ***
Yanick Djalo
Correa Anderson Polga
Substitutes
Alexandre Tiago
Pereira Gladstone
Carlos Paredes
Pontus Farnerud
Simon Vukcevic (54) *
Milan Purovic (66) **
Pereirinha Bruno
Yellow cards:
Edwin Van der Sar
Luis Nani
Leandro Romagnoli
Red cards:
0
Final score: Sporting Lisbon 0-1 United
Ronaldo
It didn't seem that long ago that I was in the likes of Lille, Roma and Milan but sure enough, the Champions League had come around again. So off I was on the first Euro away of the season, to Lisbon.
The alarm went off at an insanely early 3.45am, and I just about managed to drag myself out of bed and get ready in time for the 5am check in at Manchester Airport. Check in and indeed security, went very smoothly- I was even spared the usual search for once- and soon we were airside and having a rather early breakfast at Starbucks (yes, to all those of you who know my Starbucks obsession- I managed to fit one in!). Bizarrely, the airport appeared to be full of City fans and people in City shirts and t-shirts kept popping up everywhere. I put it down to a little gloryhunter element in their fanbase, as well as United fans probably all hiding in the bars starting as they meant to go on! At least I was hoping it was that, and not hallucinations from sleep depravation! We saw many of the usual people milling around the airport- Away coach bloke, Euro away guy, Let's go home to Daddy, Keith and his merry band of mates and lots of others. Once we began boarding the plane, we were all given a sheet of info about Lisbon- the metro system, currency, directions, climate etc. It also stressed the importance of keeping the relationship between the City of Lisbon and United a good one- Lille and Roma very obviously being in the back of their minds when it was written. We soon took off, and the flight was very smooth. Heard the guys in front of us talking about Roma- they said they went last season and there was no way they were going again this season. That's more to add to the list! As we were coming into land, we flew quite low right over the city and over the ground where we would be playing that evening. Even from above, it looked very impressive.
As soon as we started to disembark the plane, the heat hit us straight away. What a stark contrast from the grey skies we'd left behind in Manchester. It looked like our day in Lisbon was going to be a scorcher! Once in the terminal building, we were all queued up and waiting to go through immigration when who should we see joining our queue but Andy Gray (of Sky Sports), who had just come in on the Heathrow flight! There was a little bit of banter from the fans but he took it all in good humour. We were soon out of the airport and into the sunshine to see a row of coaches ready to take us into the city centre. After a few moments delay, we were given a police escort into the centre (but nothing too dramatic) and dropped off in the usual square. I was disheartened to see a few blokes get off the coach and walk a few steps before stopping at the first bar they came to. No doubt they stayed there all day and I can't help but think that people are really missing out on experiencing the different culture by not exploring the city a bit further. We ventured straight up the Avenida da Liberdado (one of the main streets in the city) and had some lunch, followed by a little bit of souvenir shopping to the background noise of 'Nemanja, woah' from the reds who had congregated in that area.We then got ourselves on the metro (which was very cheap, very effecient and very clean) and over to the Expo site where we had been before, and knew we liked. We sat out on the balcony and soaked up some of the sun (as well as dodging some rather aggressive seagulls!) which had a beautiful view of the river and Vasco da Gama bridge. We would have liked to have gone to the aquarium there which is supposed to be excellent but somehow, we were running out of time. So after an energising cup of coffee and brief look around the shops (which included spying some kid who thought he was the next Ronaldo- he was skinny and lanky like Ronaldo was when he first came to United, and it looked like he'd gone to great pains to copy his hair and clothes, bless him), we were back on the metro and heading back to the coaches. After a brief delay from the police, we were taken in procession to the Estadio Jose Alvalade. The journey on our coach was particularly noisy. Too many Superbocks (Portuguese beer) maybe! A couple of the boys in front of me (boys being the operative word- they hardly looked old enough to drink!) were being rather lively to say the least. It looked to me as if it was their first Euro away and they didn't really know how to behave. They were being gobby, argumentative and obnoxious, particularly to the CES security guy who was on our coach. They were banging so aggressively on the windows all the way that I thought they were going to put them through. Luckily, we all made it there in one piece and pleasantly, although there were obviously stewards and police around, we weren't all hearded straight into the ground. I spoke to the security guy once I got off the coach and he took it all in a very calm and good natured way- he said he's dealt with much worse as usually he's in the away section of Old Trafford, trying to sort out the hooligans!
We went into the ground quite early, after a brief bag and body search and found the stadium very impressive. Aesthetically, it was very nice inside and out (although I couldn't quite understand the multi coloured seats!) and it was clean. The toilets (which is a big bug bearer for me on Euro aways) were spotless. There were proper toilets not just holes in the ground, doors that locked, toilet paper and even soap!!! That's almost never the case in Euro aways. You can tell what a big deal it is for us girls as we all stood in the toilets queueing up, and comparing the loos across Europe!! We went into the seats and found that the view, from the corner of the first tier, was pretty decent. The pre match build up was nice- very calm. There was good, up to date music played along with highlights of last season's Champions League games on the big screens. We were surprised at how late the Sporting fans came into the ground. We expected them to be there hours before to build up the atmosphere, but they seemed more English in their ways. It seemed such a stark contrast to how things were in Rome. The segregation between United and Sporting fans was virtually zero. There was just a thin piece of wire separating us but it was pretty much as if we were sat side by side. There was no over the top policing or stewarding in our area. Nothing was thrown in either direction by any fans at all. In fact, United and Sporting fans stood side by side chatting to one another and exchanging scarves and pins. It was like a breath of fresh air after all of the horrific incidents last season. The players soon came out for their warm up and everyone was delighted to see Wayne Rooney back. Most of the players got their songs sung by the travelling contingent and we were happily applauded back.
Before we knew it, the players had finished their warm up and it seemed like no time at all until the teams were coming out of the tunnel to a huge roar. Sporting fans had had some metallic, shiny green and silver paper left on their seats to wave about when the players came out and it all looked quite effective. The game then kicked off, and the atmosphere was boisterous without being nasty. The Sporting fans did their bit with their songs and chants but we chipped in too, although it was a bit tricky trying to co-ordinate 2 separate sections in the lower tier and 2 separate sections in the upper tier. The first half passed without too many major incidents although, Van der Sar pulled off a spectacular save which drew great applause from all sections. The referee didn't seem to be pleasing the Sporting fans though and he continuously ignored their pleas for free kicks only for one such incident to turn into a booking for play acting by one of their players which brought whistles of disapproval from the fans in green and white.
Half time soon came around and I walked down the steps, into the concourse and straight into Bolton Paul! Of course my first question was, "Where the hell have you been?!". He admitted to me that he had to give up his season ticket as the cost per game, coupled with the ACS had made it out of his reach. He now just buys home tickets on a match by match basis in cheaper seats but he said he's going to try and keep up away games when he can (he has contacts!). We continued to talk for a bit longer and I told him that we missed him which made him all embarrassed. I am sorry that he confirmed by worst fears though as he really did bring a smile to our faces in K.
Into the second half, and United were getting more and more creative. Nani and Ronaldo in particular, looked like they were thriving playing against their old club. We were all singing our hearts out and encouraging the lads the best we could until eventually, our goal came. It was as if a script had been written for Ronaldo to score. Of course as soon as the ball hit the back of the net, we all went crazy (the guy in front of me even fell over, he was so excited!). The rendition of "He plays on the left" with actions was rocking, which was a sight to see! We were all very pleasantly surprised to see the section of hardcore Sporting fans stand up and applaud his goal which is something you just hardly ever see. My regard for them went up even higher after that. As the game carried on, I was getting more and more tense (scarred from too many disappointing Euro aways I think!) and Van der Sar pulled off another excellent save to keep us in front. The introduction of Saha, Anderson and Tevez was greeted warmly and it was highly touching to see the Sporting fans give Ronaldo a standing ovation when he was substituted, which he reciprocated. It showed class on both sides. As the game drew to a close, the Sporting fans tried hard to keep the atmosphere going but I think they had resigned themselves to defeat. The final whistle (thankfully!) went and a huge cheer went up from the United section. Happily, every single United player came over to applaud us which really meant a lot. Fergie once again obeyed us when we asked him to, 'Give us a wave'! We were told that we would be kept back for 20 minutes after the final whistle and on past experience, we were expecting that to mean at least 45. To keep us occupied, they showed us highlights from all of that night's Champions League games which was good. Amazingly enough, we were let out on exactly 20 minutes. The police stood back and let us leave and we all got peacefully back onto the coaches with no problems at all. Even as we were boarding the coaches, Sporting fans were still trying to swap scarves etc with us, despite the result. We had only been sat on the coach for about 10 minutes (when usually, that can be anything up to an hour), before we were on our short trip to the airport. The police escort we had was the best ever- it got us through the queues of traffic effectively but with the minimum of fuss. Consequently, the journey to the airport only took around 15 mins.
At the airport, the coach driver and guide gave such a sweet goodbye speech and called us all 'friends' that everyone broke out into a spontaneous round of applause. There were no police waiting for us at the airport and customs and security all went incredibly smoothly. I have to give so much credit to the organisation and attitude of the police and security. They didn't overreact or cause unneccessary trouble and consequently, everyone was relaxed, in a good mood and well behaved. We all agreed when talking to each other when waiting to board the plane, that it was one of the best Euro aways we'd been on. There was just enough time to make a couple of last minute purchases in the football shop there, before we boarded the plane. Once again, the flight was smooth and quiet (all of the lads that had been drinking were now starting to sleep it off I think!) and after 2 and a half hours, we were touching down back in rainy Manchester! We were held for 15 mins or so due to 'terminal congestion' (we figured that it was probably the team landing first and getting them through security before we were let off the plane. I mean, how many planes land at 2.30am to cause congestion?!). In that time, a guy (who I'm sure was a United fan) from ground staff at the airport came on our plane just to announce to us over the tannoy that Mourinho had gone from Chelsea which, as you can imagine, brought a huge cheer from the entire plane! After that little diversion, we were swiftly off the plane, through security and into the baggage area where the likes of Paddy Crerand, Albert Morgan, Rob Swire etc were all waiting for the bags off the plane (obviously the players and manager don't have to worry about doing that themselves!). We then headed up to the car park level where we'd left our car, only to find Fergie about to pull away as we arrived! We were in quite a bit of shock and really tongue tied but he saw that we had come back from Lisbon and wound his window down to talk to us. We told him what a good day it has been, how well the lads had played particularly in the second half, and how proud we were. He was absolutely beaming and said thank you quite a few times, before driving off.
What a way to finish a virtually perfect Euro away!
Lisbon Expo Site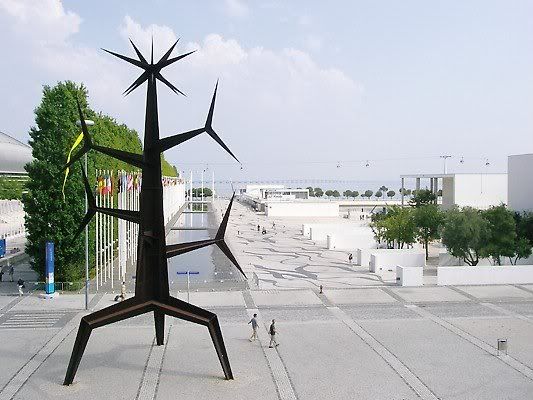 Estadio Jose Alvalade