Date: 20th October 2007
Match: Aston Villa vs United, Premier League
Venue: Villa Park
Attendance: 42,640
Manchester United
Edwin van der Sar
Rio Ferdinand
Patrice Evra
Wes Brown
Gerard Pique
Ryan Giggs *
Paul Scholes **
Wayne Rooney
Carlos Tevez ***
Luis Nani
Oliveira Anderson
Substitutes
Tomasz Kuszczak
John O'Shea (77) **
Danny Simpson
Darren Fletcher (73) ***
Cristiano Ronaldo (76) *
Aston Villa
Scott Carson
Wilfred Bouma
Martin Laursen
Zat Knight *
Olof Mellberg
Gareth Barry
Nigel Reo-Coker
Craig Gardner **
Luke Moore ***
Ashley Young
Gabriel Agbonlahor
Substitutes
Stuart Taylor (67) *
Curtis Davies
Stiliyan Petrov
Isaiah Osbourne (54) ***
Shaun Maloney (53) **
Yellow cards:
39 mins- Paul Scholes
52 mins- Nigel Reo-Coker
67 mins- Ashley Young
89 mins- Luis Nani
Red cards:
60 mins- Nigel Reo-Coker
66 mins- Scott Carson
Final score: Aston Villa 1-4 United
Agbonlahor Rooney (2), Ferdinand, Giggs
After what seemed an endless international break, we were back to the 'bread and butter' of Premier League football thankfully, with a potentially tricky trip to Aston Villa.
We arrived in Birmingham in plenty of time, and parked on our usual car park which was just a stone's throw from the motorway (for a quick escape!). We have had many bad experiences on the M6 with traffic trying to get to away games in Birmingham over the years- one such time we left the house 4 hours before kick off (for a 90 minute journey) and we got into the ground half an hour into the game, and missed the only goal scored by David Beckham! So the fact that we had to wander around for a little while beforehand this time didn't bother us in the slightest- we were just happy to know we were going to see the whole game! After killing some time, we headed over to the ground and down the VERY long hill (which isn't so bad going down, but is hellish to walk back up after the game!). We stopped off to buy our programs and found them to be a very reasonable £2.50 each (wonder how many other Premiership clubs only charge that much?!), before we got to our turnstile. We were surprised to find that we were going into a different section of the ground to normal. Usually, we get put behind the goal (in the North Stand I think) but this time we were being put in the Doug Ellis Lower, along pitchside where we were for the infamous FA Cup match against Villa when we won 3-2. I hoped it was going to be a good omen. Once in the ground, I scanned around for familiar faces and surprisingly, saw few. I only spotted Keith our program guy, England Fan and Royal Mail Guy (still without his Royal Mail jacket) which was unusual but when I got to my seat, I understood. Our allocation was huge, much bigger than normal. Not only did we have a substantial amount of the Lower Tier, but also the Upper Tier and it was all very spread out so it would have been difficult to have found many people in there! Once in our seats, we found ourselves next to quite a random family. I'm not entirely sure where they were from (I'm guessing Scandinavia, Holland, Germany or somewhere like that) but they were there complete with giant rucksacks and massive lens cameras and looked very much like they didn't have a clue what was going on! Over in one of the Villa sections, there seemed to be a group of Asian tourists (all in matching outfits) who only cared about shouting 'Ronaldo' at various intervals which was very bizarre. Putting all of these things together, I was really wondering what kind of atmosphere there would be during the game! I decided to head down to the front of the stand to watch the lads warm up as they were warming up close to the United fans. I could just about see them through all of the stewards and members of St John's Ambulance who were all jostling to take photos of the players on their mobile phones! After a couple of funny looking warm up exercises (which Nani looked highly amused by!), the players in the team split up to do their usual 5 a side. It was quite funny to watch them all mock tackling each other...well all of them except Rooney, who seemed to be quite determined that it was going to be his day as he firstly swore at Scholes for a bad pass, and then stuck his foot into Anderson who looked none too pleased about it! The last player I saw that got so mardy in the warm up was Keane, which probably says something! As the players trotted off down the tunnel ready for kick off, the announcer tried to get the Villa fans up for the game but the United fans didn't need any encouragement- the songs were coming thick and fast, even before the game kicked off!
Seemingly no time had passed before the players were back out again to cheers from all around. The game kicked off to a fair bit of noise from Villa fans actually, which seemed to encourage their players who started off well. The section where we used to sit in particular, seemed to be quite noisy and maybe better organised in their singing than usual. I wondered whether they have made that section Villa permanently now, and made it into a bit of a singing section. They certainly seemed a bit more passionate than their usual plastic selves, and were quite good for a bit of banter for a change. Of course on the pitch, they had even more of a reason to shout as Agbonlahor put them in front but United fans were all going mad watching the replay, as it appeared that one of their players had been offside. The lads were possibly looking a little tired after their international exploits, but we were all encouraging them as best we could. Actually after Villa scored, we seemed to get even louder and Villa fans seems to get quieter! United then started to push on a bit and the breakthrough soon came through Rooney, much to everyone's delight. Huge cries of 'Rooney' and 'Saw my mate...' reverberated around the United section and it soon became clear that on and off the pitch, we were on a roll. We were singing everything from 'Pride of all Europe' to 'He scores goals galore' and everything in between. Rooney then came up trumps again to put us in front and the bullishness of the Villa fans disappeared still further. As half time approached, people began to head to the stairs for their...ahem...refreshments but when we got a corner just before the half time whistle, it was like a game of Musical Statues- everybody just froze on the steps! As it was floated in and somehow ended up nestled in the back of the net, we all were delirious! The end was bouncing and somebody got a little too excitable by trying to get onto the pitch. He was promptly wrestled to the ground by about 8 police and stewards who obviously still had the FA Cup pitch invasion fresh in their minds! At half time, I nipped down to the concourse for possibly the worst cup of tea I've ever had, and the place was rocking. The 'We all hate Leeds / 31 Years' remix was in full flow and showed no signs of stopping! Back in my seat, and the family next to me had cracked open the picnic basket and were eating packets of crispbreads! To be honest, they looked a little shell shocked!
The teams were soon back out for the second half and started much in the same vein as the first had ended. United were on the attack again and really looked to be in control of the game. The Villa fans behind the goal then began to wake up when we sang 'Argentina' which they seemed to take particular exception to. Seeing this, it was a perfect opportunity to get them going so 'Portugal' followed as well as 'He plays on the left....' which riled them still further! And if that wasn't enough, they were really wound up when Reo-Coker was sent off for a second bookable offence. Afterwards, I actually heard some Villa fans blame that red card for the fact that they lost- they seemed oblivious to the fact that they were already 3-1 down by that point and not looking like they were going to threaten at all! Of course, this was closely followed by the penalty and red card for Carson which I don't think even they could question. We were all gutted for Rooney that he missed, and so missed out on his hat trick, but we sung his name over and over after that in total support of him. Villa's substitute 'keeper actually played a blinder when he came on and really kept the score down for them. Of course he couldn't stop Giggsy (with the aid of an odd deflection or two!) floating in a 4th, which signalled the departure of a vast amount of Villa fans. The empty seats after that goal went in was astounding, and I commented to hubby that they were all probably heading off to the pub to sink a couple of pints before the rugby started! The game pretty much wound down after that and the lads sensibly and calmly played out the last 15 minutes or so with a lot of energy saving possession football but not many attacks, even after the introduction of Ronaldo (of course us lot are never happy and still demanded 'attack'- a call which went unheeded!). It also gave us the opportunity to ask Fergie to 'Give us a wave' (who seemed in a playful mood as he waited right until the very end of the song to wave, as if he wasn't going to do it!) and even Rooney too, who rewarded us all with a big thumbs up! The stewards began to look a little edgy at our boisterousness and enthusiasm and soon all stood in a line and made a wall between us and the pitch, as if they were expecting another pitch invasion! They really don't trust us at all! Soon, the final whistle went to a big, happy cheer and the players all piled over to us to applaud and wave. I looked over to the family next to us and they still looked utterly bemused but also had huge smiles on their faces. I've seen that look countless times and I knew exactly what it meant- they were in love. And looking around at everyone else- so were we all.
Lads warming up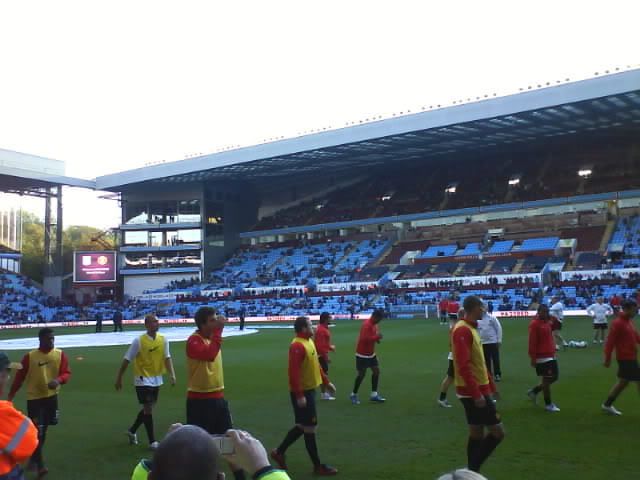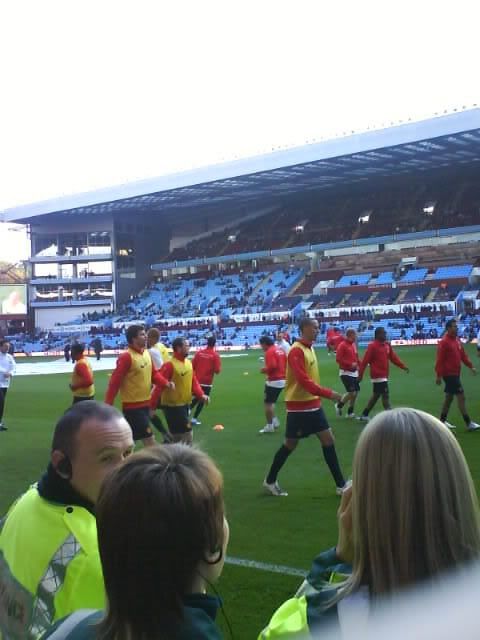 *Credit to Skysports.com for match stats*