[center]"
We are going to die.....
." -
Johnny Berry
[/center]
[center]
Johnny Berry (1926 – 1994 )
[/center]
[center]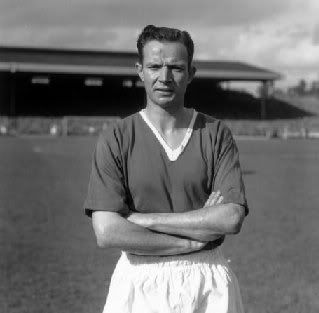 [/center]
[center]
Name
John James Berry
Date of birth
1 june 1926
Place of birth
Aldershot, England
Date of death
23 September 1994
Nationality
English
Position
Right Wing
Appearances
276
Goals Scored
45[/center]
English born John Berry was too small to make a footballer thus he left school to become a trainee cinema projectionist after being rejected by his hometown team.
His talent were only spotted by Birmingham City at that time captain, Fred Harris while playing for his army team in India during the Second World War.
In 1947, he started off as an amateur at Birmingham City before later as professional & had a productive period at St Andrews before joining Manchester United in 1951.
[center]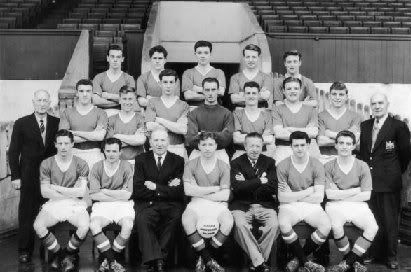 [/center]
By the start of 1951-1952, Matt Busby were so impressed with his performance against United at the end of the previous season where he had single handedly literally destroyed United, he went to purchase him right after Jimmy Delaney left Old Trafford.
Making his debut as a United player at Burden Park on 1st September 1951, he went on to collect a League Championship medal, appearing in the side 36 times & scoring 6 goals.
4 years later when united won another League Championship Trophy, Berry was one of only two players left in the side from the Championship winning team of 1951-52. He collected a third league medal in the 1956-1957 season & was an FA cup finalist in 1957 along with 4 England caps.
Berry, standing at only 5 feet 5 inches high, was a speedy right-winger who delighted football supporters where ever he played. Johnny Berry has rather more to his game than the typical winger's bag of tricks - though he has those too. In addition to this he also had an eye for goal. He scored 45 goals in 276 appearances for United, including the winner in the quarter-final of the European Cup in 1957 against Athletic Bilbao.
[center]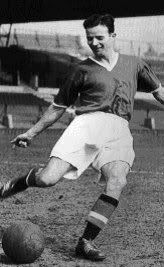 [/center]
As well as the classic winger's abilities, in particular his tremendous knack for getting to the goal-line and sending in dangerous crosses, Berry has the heart of a real competitor - many an opposing full-back has been surprised by his determination to tackle back with the best of them.
Sadly he was one of the victim involved in 1958 Munich tragedy which killed seven of his team mates as well as three club officials eight journalists, two passengers and two members of the flight crew. It is known that the take off from Belgrade was delayed for an hour as Johnny is believed to have lost his passport before the plane then stopped to refuel on the return journey to Manchester in Munich.
Even though he survived the crash, which one describe as miracle, the injury he sustain didn't allow him to ever play football again. He suffered horrific injuries including a fractured skull, broken jaw & a broken pelvis. When he woke up he was totally unaware of the plane crash, his injuries having caused a light form of amnesia. He received the sad news one month after he regained consciousness & that too after spending a very long time in hospital recovering from his injuries before working for Massey Harris in Trafford Park before returning to his home town of Aldershot.
In the 1960's Berry went into the business with his younger brother Peter, selling sports clothing.
Johnny Berry died in September 1994, aged 68, after a short illness. He was the first surviving player of the Munich Air Disaster to have died.
[center]RIP[/center]
@pictures credit to Getty
© UNITEDLOUNGE.COM Reproducing this material, either in whole or in part, without the permission of unitedlounge.com is strictly prohibited